Company > Performance spectrum
From the creative idea to the finished product - all the way to delivery.
With elasto, literally anything is possible!
Our top priority is customer orientation and individual product design according to your ideas.
To adhere to this motto, we rely on both "Made in Germany" quality and efficient global sourcing. Let us convince you of our range of services:
we give everything for your advertising success!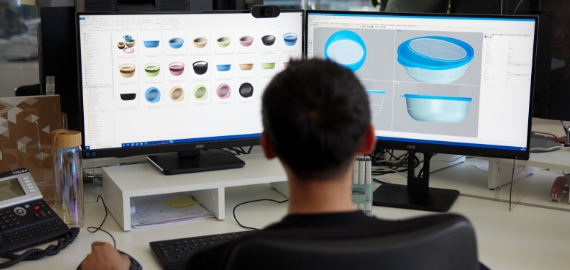 Development.
Our product development department designs a digital sample within a very short time. Versatile. Tangible. Fast: together, we develop the best strategy for the path to your success. Realisation begins with the first thought.
Our product development department will design a sample entirely according to your individual ideas within the shortest possible time. With the help of 3D visualisation, we make your ideas visible. With our 3D samples, you can see the feel and functionality of your product for yourself. During the development process, we focus on market orientation and current trends.
Mould construction.
Our in-house mould construction and tool shop offers expert solutions for all industries. This includes consulting, design, and manufacturing - but also first-class quality from the hands of experienced professionals.
The modern machinery enables 5-axis CNC milling, laser and wire cutting, deep hole drilling, die-sinking EDM and rapid prototyping. This comprehensive overall package forms the basis for fast and flexible »Made in Germany« production.
Production.
The plastic injection moulding shop at our headquarters in Sulzbach-Rosenberg enables flexible production of individual items.
50 injection moulding machines, including innovative multi-component injection moulding, offer individual product design in an unlimited range of colours - with a production volume of up to 250,000 pieces per day. Our expert employees - with many years of professional experience in the field of plastics processing - ensure smooth processes and the best results.
Refinement.
From screen printing and UV digital printing, to the IMould process and laser engraving - a wide variety of finishing techniques enable the efficient implementation of creative ideas.
Whether we are talking about small quantities or large series, our innovative finishing offers an individual product design, implemented by our expert technical staff. Thanks to production at the Sulzbach-Rosenberg site, the fastest possible and flexible realisation according to your ideas is guaranteed. Your branding perfectly staged - 100% »Made in Germany«.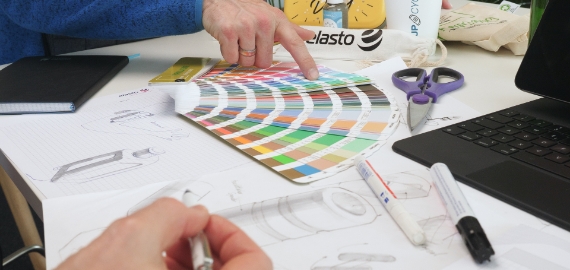 Fulfilment.
Our professional Fulfilment includes a comprehensive range of services along the complete process chain.
From idea to successful advertising: the conceptual design includes both elaborate planning and expert consultation with our service staff. We undertake the procurement of goods and finishing according to your requirements. Modern warehousing and logistics guarantee short delivery times and optimal order processing, including fast returns. For the implementation of your project, eCommerce and web development services are at your disposal, as well as modern payment processing and our controlling procedures.
Logistics.
With our intelligent warehousing across an area of 11,500 square meters, we handle 120,000 packages and 15,000 pallets per year.
Thousands of items are available at short notice: our import and export goods management can therefore meet high demand at any time and cover comprehensive delivery quantities. Your order will reach you safely, quickly, reliably and on time thanks to our 24h express shipping.
Quality management.
Our certified quality management system continuously ensures the quality of both products and processes.
The internal laboratory, equipped with the latest measuring techniques, carries out mechanical endurance tests, among other things. Compliance with the highest quality standards is ensured by the analysis of material composition, detection of heavy metals and odour suitability testing.
Recycling process.
Through our modern recycling system, we do our bit to ensure greater sustainability in the advertising media industry.
All the plastic items we manufacture can be cleaned and returned to us at the end of their life. We separate them by colour and type, before grinding them. The granules obtained from this process are added to the production process again. By using recycled materials, we actively conserve resources and require fewer new raw materials. This is our contribution to the protection of the environment.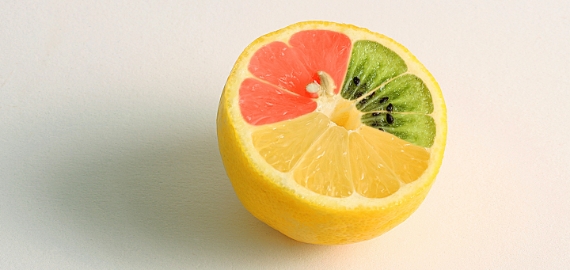 Unique designs.
Unique branding: we give your ideas a special edge. In line with your ideas and requirements, we completely take over the stages of realisation and processing - ensuring that everything is 100% original and from one source.
Within a very short time, your unique item is ready for series production. We place particular emphasis on customer proximity and personal consultation - throughout the entire process.
Environment.
We give back more than we use! Because what we do today determines what the world of tomorrow will look like.
For this reason, we are both climate positive and ISCC PLUS certified. We also focus above all on reducing CO2 emissions by means of our own measures. This includes, for example, heat recovery and photovoltaic systems, the use of recyclable materials, 11 electric vehicles in the company fleet, the exclusive use of recycled paper and cardboard, and efficient lighting management. In addition, we are exploring the use of bio-based plastics and recyclates and use FSC-certified wood and paper products.
elastoREuse.
We are taking the fight to single-use packaging for takeaway food. Thanks to our elastoREuse items, unnecessary waste generation is a thing of the past.
The elastoREuse product range offers sustainable reusable containers for every taste. With our food boxes, delicious meals can be transported fresh and at an optimal temperature, or conveniently stored at home in the refrigerator. Reusable, up to 100% recyclable, and - of course - BPA-free. Suitable for (industrial) dishwashers and refrigerators. Perfect for personal use and in a catering setting.
elastocare.
With the elastocare brand, we present the expansion of our range to include a variety of protective items. Originally established due to supply bottlenecks during the corona pandemic, specialisation in this field enables us to respond swiftly and flexibly to challenging issues.
Our protective items are characterised by fast and straightforward production. With our own manufacturing, we offer "Made in Germany" quality, and as an importer we boast an extensive international network of suppliers and partners. The high quality standards of our items are continuously ensured by the certified quality management system in our in-house testing lab.
We give everything to make everything possible.
Whether you need an item that can be delivered immediately or you are looking for a solution that can't be found in our catalogue - our team is here to offer you the best solution. Contact us!

GO TO CONTACT FORM